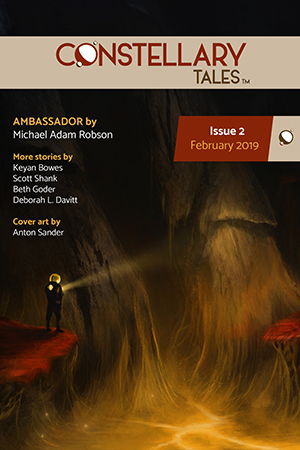 Editorial: Three Months Have Flown By
Issue 2 of Constellary Tales is out the door, featuring five exciting new SF stories and original artwork.
Issue 1 was a special for us—you only have one first—but Issue 2 carries meaning in its own right. It's a tangible indicator of how well we're meeting our publishing goals (after all, we had our entire lives to produce Issue 1).
Completing Issue 2 in three months meant reading, editing, and publishing in a fixed (and surprisingly short!) window. Thanks to everyone who submitted stories and to our whole editorial team for helping make that happen.
Another goal of ours was (and remains) to respond to all submitted stories on time. Extending our turnaround window to sixty days helped us meet that goal, though likely it wasn't a solution that authors much cared for. We're pleased to be adding three staff members for Issue 3; this will help us read and turn around submitted stories faster.
Finally, we remain committed to paying pro rates. According to new SFWA guidelines, that will jump from 6 to 8 cents per word starting in September. Thanks to everyone who joined Team Constellary on Patreon so far—and to all who wish to subscribe now—we are positioned to meet that goal as well.
As always, we invite comments on individual stories, on the issue as a whole, and on our podcast episodes. Thanks for reading and tuning in, and talk to you later this month.
Brian Hirt and Ken Gerber
Co-publishers and Co-editors in Chief